MikiWAR: A couple of firsts here; you are the first on this show to rock a set on Traktor and our first Harvard grad. How do you feel about Harvard losing the Squash National Finals to Trinity?
Shiftee: When that happened I didn't eat for several weeks. I'm still recovering from that and I'm a little angry that you brought that up (room laughs).

Dainjazone: Being a math major, how much of that is incorporated into you sets?
Shiftee: It comes into play a little bit. I'm not doing equations on the turntables or I work out a formula before I do a scratch. The similarity of doing math and DMC is you have to work something that is tedious and painful for a long amount of time. Just being able to focus for ten hours a day on something is where it translates.

Dainjazone: This is how it is when you do shows?
Shiftee: I'm usually not doing as much turntablist stuff. I've been doing a lot of dubstep and electronic music shows and also trying to incorporate that background by doing some things with cue points and technology. But you know, always got to show some scratching.

Dainjazone: What DJs are you a fan of that uses the Maschine or other midi controller?
Shiftee: Craze is a big Maschine user. We have a nice group of DJs on Traktor: Craze, Klever, Rusko, Scribble and pretty much every techno guy. We're growing in the U.S.

MikiWAR: Do you think there is a reason why a lot of ex-DMC and turntablists favor Traktor?
Shiftee: Because you can do more to change the sound. When you're doing a DMC-type set you're thinking, 'how I can make this my own; different?' With Traktor you have more ways to make it different. You can do next-level DMC sets.

MikiWAR: What's your opinion on DMC going digital?
Shiftee: I think it's necessary. I'm glad they did it. It is sad that it's not the way it was. Everyone wants the late 90s era back again, but if you look at what it means to be a DJ today, what it is to be a DJ today is using a laptop. The best DJ competition in the world, the most prestigious, should reflect what most DJs in the world are doing. I think it'll bring so many new people into the fold. The way it was before this is you had to press you own records. You couldn't find anything on vinyl and you needed to do a lot just to do a set. Now, everyone has a laptop.

Dainjazone: Are you thinking of putting a set together for the DMC?
Shiftee: No. (room laughs)

Dainjazone: I-Dee said he's going to jump back in it...
Shiftee: Good for him. (room laughs) I support I-Dee.

MikiWAR: You're pretty heavily involved with teaching, right?
Shiftee: Yes. I teach at this spot called Dub Spot. It's like a DJ and electronic music production school. There are crazy programs in DJing, turntablism and eighteen months of Ableton if you want it. I'm particularly excited about launching the first ever digital DJing online class where it's all internal DJing. We figured if people are going to be internal DJs with their laptop we should teach them the right way, what the technology is emulating. This will be a class via the new Traktor. Hopefully this will serve as a gateway to people getting on turntables. I don't mean to wipe out my favorite thing. Watch out for that in April.
IMAGES FROM THE SHOW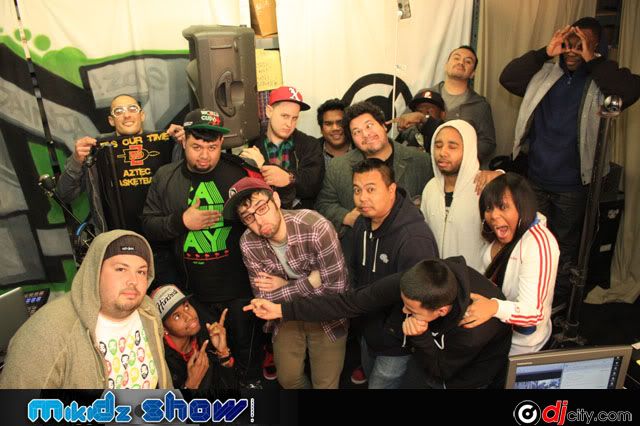 AUDIO DOWNLOAD
PODCAST! Downloadable
73 minutes mp3
version of Shiftee on the MikiDz Show
VIDEO
All full recorded videos for past guests can be accessed from the MikiDz page here:
http://www.djcity.com/mikidz